Christine Schörkhuber is living and working as freelance media artist, film maker and musician, mainly interested in intersections of audio and visual arts, political contents and collaborative working experiences. Graduated at the Academy of Fine Arts,Vienna at Video/Videoinstallation class with Dorit Margreiter. Member of the executive committee of the "IG Kultur Österreich"
Participations a. o. at Faktum FLAKturm, AnaDoma Filmfestival Braunschweig, Viertelsfestival NÖ, So Fresh! DVD-Compilation of young video Art (Amici Associacioni Galleria Spazzapan), Jazzwerkstatt Wien, Crossing Europe 2010, SOHO Ottakring 2010, Parque de Sol, (Symposium of interdisciplinary Art, St. Pölten), Radia Radioart network, Klangmanifeste (Echoraum, Wien), Pixxelpoint Nova Gorica, Multiplikator Show Budapest, Festival Les Instants Vidéo et Poetique,(Paris, New Dheli)
Christine will be performing within the evening programme at Raum D
Several Computers are going to be de-constructed in their single parts and fragmented into their constituent parts. Connections and operations modes are revealed, the parts are decoded in their basic function, appropriated and reformulated in their aesthetic meaning. Without having a classical workshop structure, this Event is their to demystify technics in a playful way, test out functions and to establish a process of anti hierarchic knowledge transfer.
—————————————————————————————————————————-
pictures from the previous workshop
belgrade, 12. 06. 2011.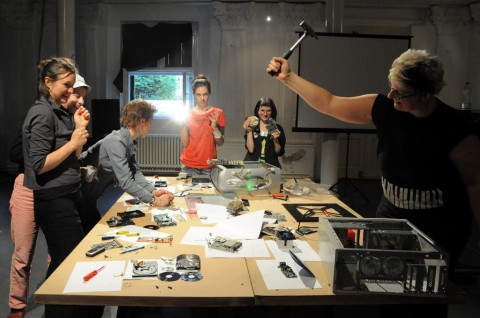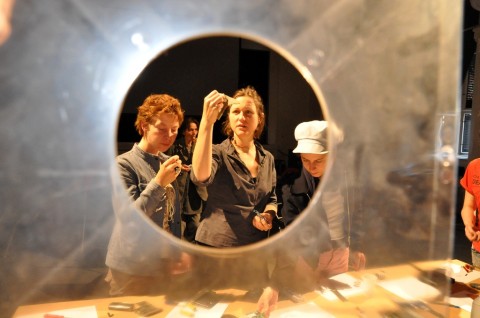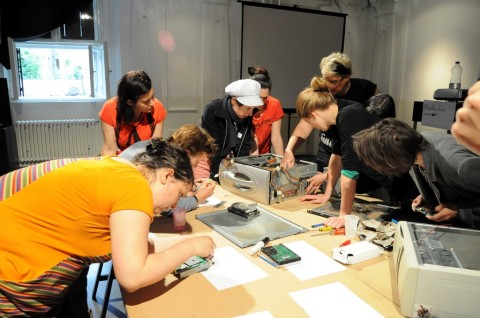 Heather Kelley (@PerfectPlum) is a media artist, curator, and game designer.
She was named by Fast Company magazine as one of 2011's thirty most influential women in technology. Ms. Kelley heads her experience design studio Perfect Plum. Her product the OhMiBod Remote app, an intuitive and beautiful iPhone interface to control a connected vibrator, won two Content Awards from the city of Vienna. Ms. Kelley is co-founder of the experimental game collective Kokoromi, creators of the Gamma curated new arcade event. She holds a Masters degree in Communication from the University of Texas at Austin.
Heather Kelley will be giving the Paper Games workshop
a workshop by Sabrina Basten and Audrey Samson (Genderchangers)
KÖRPER SPULE is a workshop in which participants build a wearable device (from re-purposed objects) that makes electromagnetic fields audible and go into the city to explore these invisible fields. Participants are expected to bring an old electronic object (preferably with coils in it) to dismantle. The coils are re-purposed as pick up microphones (mics that 'listen to' electromagnetic frequencies). Participants then build an amplifier by soldering components to a self-designed copper sheet cut-out circuit. This circuit is built directly onto the body's surface. The workshop ends with a walk through the Museumsquartier. KÖRPER SPULE is about understanding how things work, breaking things open, working with the physical leftovers of planned obsolescence, and re-incarnating old components. It is also about exploring the hidden world of omnipresent electromagnetic waves.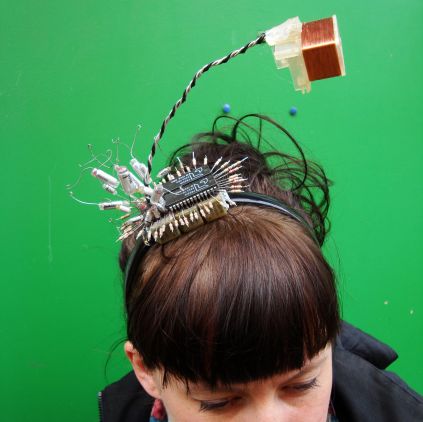 —————————————————————————————————————————
photos from previous workshops
belgrade, 10. and 11. 06. 2011.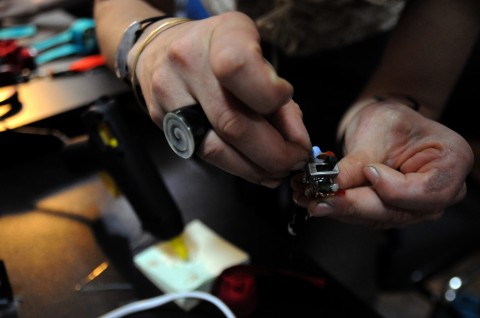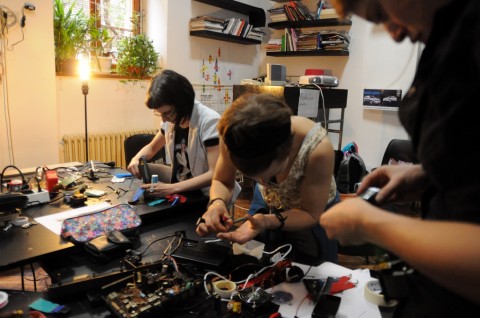 a workshop by Heather Kelley
Heather Kelley will lead participants in the modification and re-design of paper and pencil games. Participants will learn how changing the basic rules of a game can influence (support or disturb) the theme or message of a game. All participants will get hands-on experience in testing, analysing, and critiquing the game designs they create.
20. – 23. January, Mz. Baltazars Buro / Raum D
Friday, 20th of January 2012
10:00 – 12:00 Computer Break! Fast at Raum D
12:00 – 15:00 Drupal workshop by Milica Gudović at Mz. Baltazar's Büro
16:00 – 19:00 Re-Sista by Stefanie Wuschitz at Raum D
20:00 Evening Programme at Raum D
Audio performances of media artists who work with electronics and programming, Ulla Rauter, Ye Hui, Christine Schörkhuber and others.
Saturday, 21st of January 2012
11:00 – 14:00 A left at Albukerky by Darija Medić Mz. Baltazar's Büro
14:00 – 17:00 Solar Workshop by Selena Savić Raum D
18:00 – 20:00 Paper Games by Heather Kelley at Mz. Baltazar's Büro
20:00 Evening programme at Raum D
The beauty of distortion, live visuals with electronic interferences, without computers
Sunday, 22nd of January 2012
11:00 – 14:00 PD Programming by Ulla Rauter at Mz. Baltazar's Büro
11:30 – 17:30 KÖRPER SPULE by Audrey Samson and Sabrina Basten, Raum D
After Hour Raum D presentations 
a workshop by Ulla Rauter
Pure data is an open source environment for real-time- and interactive sound works. I mainly use it to build electronic instruments for music performances and to control interactive installations.
After a small introduction to the basic tools of pd, we will build some simple digital synthesizers. We can also work out your own project ideas!
a workshop by Stefanie Wuschitz (Mz Baltazar's Laboratory)
This workshop will first give a basic introduction to the micro-controller arduino/arduina. After that we will make organic interfaces from material like plants, moss and mud, play with different forms of resistance and think about ways to generate sustainable energy (from friction, curbs, waste) in order to power our micro-controllers or other circuits we come up with. We try to generate and detect electric signals in very simple and straight-forward ways to explore which secrets they convey.
Sabrina Basten and Audrey Samson
is Sabrina Basten and Audrey Samson, two artists working in different artistic fields. Sabrina is mainly working on spatial installations which deal with the behaviour of specific materials and of the visitor in the space. Audrey is interested in the stories of objects and how they can be told. Together they think of how material can tell a story and how it can interact with its surroundings. Sabrina and Audrey get their inspiration from inner parts of discarded objects. They work from the products of planned obsolescence, re-assembling objects with new functionalities in a DIY fashion.
Sabrina and Audrey will be giving the Körperspule workshop
During the evening presentations in Room D different Media Artist present works, which they have realised with the help of software and electronic. The glass walls in Room D are f.e. used as a projection screen for cooperatively created distortion visuals without using computers after the Idea of "the beauty of distortion" by Christine Schörkhuber. Ye Hui is going the other way round and works with video signals as a basis to generate audio signals.
And of course: Its about party! With Music, Drinks and talks with interesting people!