a workshop by Sabrina Basten and Audrey Samson (Genderchangers)
KÖRPER SPULE ist ein Workshop, in dem die Teilnehmerinnen tragbare Devices aus zweckentfremdeten Elektrogeräten bauen, die elektromagnetische Felder hörbar machen. Anschliessend werden wir damit durch die Stadt spazieren, um unsichtbare elektromagnetische Felder begreifbar zu machen. Die Teilnehmerinnen bringen selbst alte elektrische Geräte mit, (bevorzugterweise mit Spulen), um sie zu zerlegen. Die Spulen werden zu Mikrophonen zweckentfremdet, die elektromagnetische Frequenzen aufgefangen. Die Teilnehmerinnen bauen selbst einen Verstärker, indem sie die Komponenten an einer selbst entworfenen Kupferplatine zusammenlöten. Dieser Schaltkreis wird direkt an den Körüer adaptiert. Der Workshop endet mit einem Spaziergang durchs Museumsquartier. KÖRPERSPULE ist ein Workshop, in dem wir uns nicht nur damit auseinandersetzen, wie Objekte funktionieren, sondern auch wie Dinge zu zerbrechen und zu neuen Objekten umgewidmet werden können. Es geht um die Entdeckung der versteckten Welten der elektromagnetischen Wellen.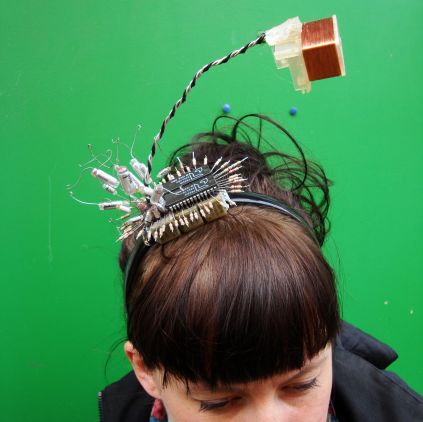 —————————————————————————————————————————
photos from previous workshops
belgrade, 10. and 11. 06. 2011.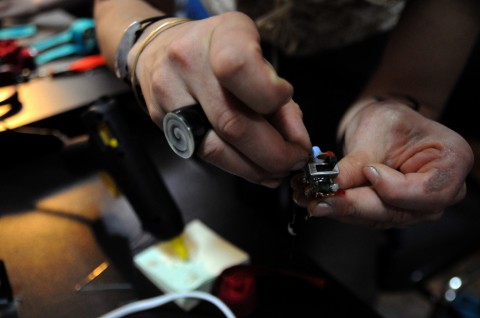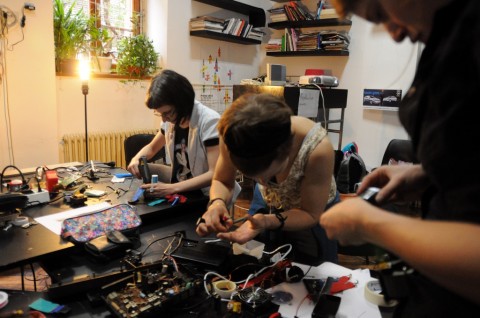 a workshop by Ulla Rauter
Pure Data ist eine open source software, mit der auch ohne Programmierkenntnisse interaktive/Echtzeit-Sound-Arbeiten realisiert werden können.
Ich benütze es vor allem als Instrument bei Musik-Performances und zur Steuerung interaktiver Installationen.
Nach einer Einführung in die wichtigsten Grundlagen von pd werden wir u.a. kleine digitale Synthesizer basteln.
Auch für eigene Projektideen ist Raum!