Christine Schörkhuber is living and working as freelance media artist, film maker and musician, mainly interested in intersections of audio and visual arts, political contents and collaborative working experiences. Graduated at the Academy of Fine Arts,Vienna at Video/Videoinstallation class with Dorit Margreiter. Member of the executive committee of the "IG Kultur Österreich"
Participations a. o. at Faktum FLAKturm, AnaDoma Filmfestival Braunschweig, Viertelsfestival NÖ, So Fresh! DVD-Compilation of young video Art (Amici Associacioni Galleria Spazzapan), Jazzwerkstatt Wien, Crossing Europe 2010, SOHO Ottakring 2010, Parque de Sol, (Symposium of interdisciplinary Art, St. Pölten), Radia Radioart network, Klangmanifeste (Echoraum, Wien), Pixxelpoint Nova Gorica, Multiplikator Show Budapest, Festival Les Instants Vidéo et Poetique,(Paris, New Dheli)
Christine will be performing within the evening programme at Raum D
Mehrere Computer werden beim Frühstück in ihre Einzelteile zerlegt und in ihre Bestandteile fragmentiert. Es werden die Zusammenhänge und Funktionsweisen offengelegt, die Einzelteile in ihrer Grundfunktion entschlüsselt, umgewertet und auch in einer ästhetischen Form neu formuliert. Ohne einer klassischen Workshopstruktur zu unterliegen, geht es bei der Auftaktveranstaltung zunächst um ein spielerisches Demystifizieren der Technik, informelles Austesten und einen antihierachischen Wissenstransfer.
—————————————————————————————————————————-
pictures from the previous workshop
belgrade, 12. 06. 2011.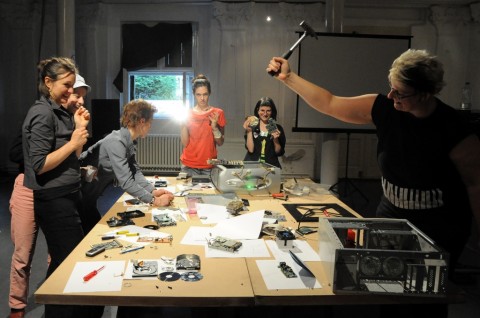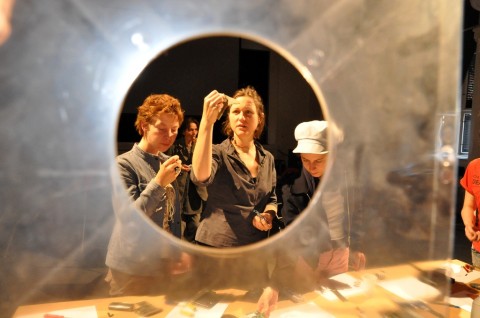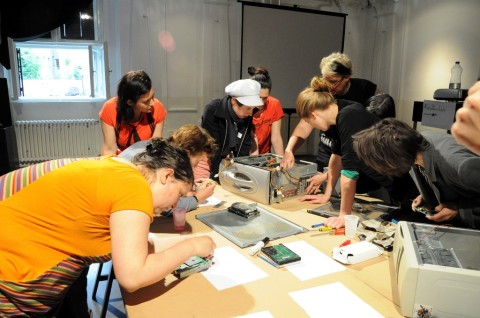 Heather Kelley (@PerfectPlum) is a media artist, curator, and game designer.
She was named by Fast Company magazine as one of 2011's thirty most influential women in technology. Ms. Kelley heads her experience design studio Perfect Plum. Her product the OhMiBod Remote app, an intuitive and beautiful iPhone interface to control a connected vibrator, won two Content Awards from the city of Vienna. Ms. Kelley is co-founder of the experimental game collective Kokoromi, creators of the Gamma curated new arcade event. She holds a Masters degree in Communication from the University of Texas at Austin.
Heather Kelley will be giving the Paper Games workshop
a workshop by Sabrina Basten and Audrey Samson (Genderchangers)
KÖRPER SPULE ist ein Workshop, in dem die Teilnehmerinnen tragbare Devices aus zweckentfremdeten Elektrogeräten bauen, die elektromagnetische Felder hörbar machen. Anschliessend werden wir damit durch die Stadt spazieren, um unsichtbare elektromagnetische Felder begreifbar zu machen. Die Teilnehmerinnen bringen selbst alte elektrische Geräte mit, (bevorzugterweise mit Spulen), um sie zu zerlegen. Die Spulen werden zu Mikrophonen zweckentfremdet, die elektromagnetische Frequenzen aufgefangen. Die Teilnehmerinnen bauen selbst einen Verstärker, indem sie die Komponenten an einer selbst entworfenen Kupferplatine zusammenlöten. Dieser Schaltkreis wird direkt an den Körüer adaptiert. Der Workshop endet mit einem Spaziergang durchs Museumsquartier. KÖRPERSPULE ist ein Workshop, in dem wir uns nicht nur damit auseinandersetzen, wie Objekte funktionieren, sondern auch wie Dinge zu zerbrechen und zu neuen Objekten umgewidmet werden können. Es geht um die Entdeckung der versteckten Welten der elektromagnetischen Wellen.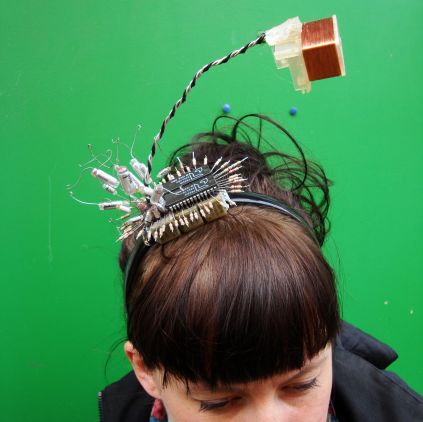 —————————————————————————————————————————
photos from previous workshops
belgrade, 10. and 11. 06. 2011.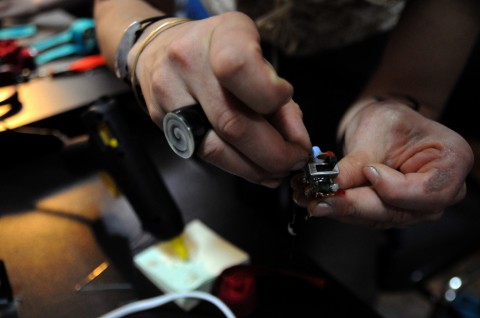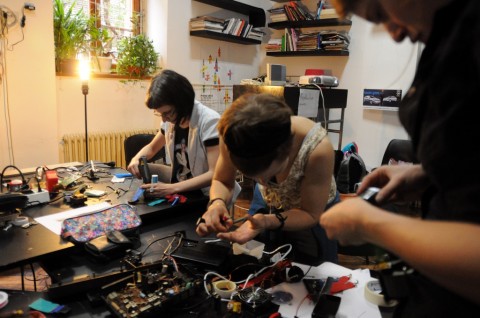 a workshop by Heather Kelley
Heather Kelley führt mit den Teilnehmerinnen eine Modifikation und Neuformung von Papier- und Bleistiftspielen durch. Die Teilnehmerinnen lernen, wie Grundregeln von Spielen das Thema und die Botschaft beinflussen, stören oder unterstützen können. Alle Teilnehmerinnen machen praktische Erfahrungen im testen, analysieren und kritisieren ihrer selbstentwickelten Spiele.
20. – 23. Januar, Mz. Baltazar's Buro / Raum D
Freitag, 20.1.2012
10:00 – 12:00 Computer Break! Fast, Raum D
12:00 – 15:00 Drupal workshop, Milica Gudović, Mz. Baltazar's Büro
16:00 – 19:00 Re-Sista, Stefanie Wuschitz, Raum D
20:00 Abendprogramm im Raum D
Audioperformances von Medienkünstlerinnen, die mit Elektronik arbeiten, Ulla Rauter, Ye Hui, Christine Schörkhuber…
Samstag 21.1.2012
11:00 – 14:00 A left at Albukerky, Darija Medić, Mz. Baltazar's Büro
14:00 – 17:00 Solar Workshop, Selena Savić, Raum D
18:00 – 20:00 Paper Games, Heather Kelley, Mz. Baltazar's Büro
20:00 Abendprogramm im Raum D
The beauty of distortion, live Visuals mit elektronischen Störsignalen ohne computer
Sonntag 22.1.2012
11:00 – 14:00 PD Programming, Ulla Rauter, Mz. Baltazar's Büro
11:30 – 17:30 KÖRPER SPULE, Audrey Samson und Sabrina Basten, Raum D
After Hour Rundgang im MQ Raum D Präsentationen
a workshop by Ulla Rauter
Pure Data ist eine open source software, mit der auch ohne Programmierkenntnisse interaktive/Echtzeit-Sound-Arbeiten realisiert werden können.
Ich benütze es vor allem als Instrument bei Musik-Performances und zur Steuerung interaktiver Installationen.
Nach einer Einführung in die wichtigsten Grundlagen von pd werden wir u.a. kleine digitale Synthesizer basteln.
Auch für eigene Projektideen ist Raum!
a workshop by Stefanie Wuschitz (Mz Baltazar's Laboratory)
In diesem Workshop erhältst du eine Einführung in die Welt der Mikrokontroller. Wir verwenden diese kleinen Computer, um Reize in andere Formate übersetzen können, beispielsweise Licht in Ton, Bewegung in Bild oder Temperatur in Farbe. Anschließend werden wir Sensoren bauen, die diese Reize aufnehmen können. Wir bauen die Sensoren aus billigen und natürlichen Materialien wie Moos und Schlamm um unterschiedliche Widerstände im Schaltkreis herstellen zu können. Durch nachhaltige Energiegewinnungsprozesse (Reibung, Kurblen, Gärgas) versuchen wir unsere Mikrokontroller selbst mit dem nötigen Strom zu versorgen. Der Workshop ist für absolute Anfängerinnen und erfordert kein Vorwissen.
(Sabrina Basten and Audrey Samson)
is Sabrina Basten and Audrey Samson, two artists working in different artistic fields. Sabrina is mainly working on spatial installations which deal with the behaviour of specific materials and of the visitor in the space. Audrey is interested in the stories of objects and how they can be told. Together they think of how material can tell a story and how it can interact with its surroundings. Sabrina and Audrey get their inspiration from inner parts of discarded objects. They work from the products of planned obsolescence, re-assembling objects with new functionalities in a DIY fashion.
Sabrina and Audrey will be giving the Körperspule workshop
Während des Abendprogrammes Im Raum D präsentieren verschiedene Medienkünstlerinnen ihre Arbeiten, die sie mit Hilfe von software und Elektronik umsetzen, wie zb. Ulla Rauter, Stefanie Wuschitz, Verena Dürr, Hui Ye u.a. Die gläsernen Wände im Raum D werden gemeinsam nach der Idee von " The beauty of Distorsion" von der Medienkünstlerin Christine Schörkhuber und anderen Teilnehmerinnen durch Visuals bespielt, die Störsignale bei Video ästhetisch verwerten und zur Bildgenerierung verwenden.
(Diese Zusammenkünfte dienen auch dem informellen Austausch zwischen den Festivalteilnehmerinnen und anderen Wiener KünstlerInnen und dem Aufbau und der Stärkung von Netzwerken.)
Und natürlich Party mit Musikperformances, Drinks und spannenden Gesprächen!